Tour
MOKKIO provides you with incredible flexibility,
you can build and maintain a Business website with easy.
MOKKIO – overview
With MOKKIO you don't have to install any software and then configure and update it. Your website powered by MOKKIO lives on a reliable cloud based platform and you always have direct access to the latest stable version and are not bothered by any technical issue.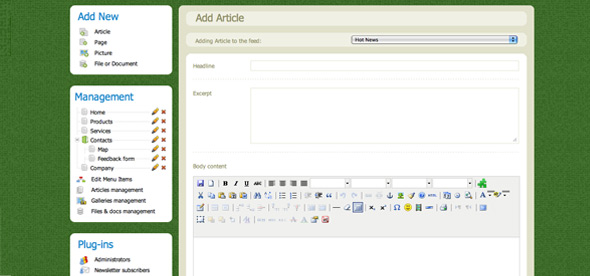 MOKKIO design tools with advanced template system in MOKKIO allows graphic designers or anyone else to easily transform the default designs into fully branded templates. You can also buy a Custom Integration option and we will code your templates from your Photoshop PSD into CSS and XHTML standards-compliant pages for a low rate.
Easy website editing
Add pages and articles instantly. Click "add page" or "add article" and choose where your page should go. MOKKIO automatically creates all necessary pages and xHTML code.

Manage pages, articles and documents with familiar controls. Every editing action is operated with our what-you-see-is-what-you-get (WYSIWYG) editor. The editor offers easy-to-use controls over text, images and files.
Simply integrate video tubes from popular services like YouTube™, Vimeo, and others. You have only to paste embed code and your video start playing on the page.

We have an easy photo gallery tool. Just upload your pictures and you will get an instant slide-show which can be placed on any website page.
Designer tools
Smarty Templates
MOKKIO uses Smarty Template Engine. That means that your each website page has a template and content. Content is generated by the database and implemented into Smarty engine template. You can design your custom corporate templates according to simple Smarty guidelines.
Code editing inside MOKKIO
Code view option in TinyMCE editor inside the MOKKIO system gives to advanced editors a direct access to the HTML. Just click an icon to switch between visual editing and code view and paste your code into the a webpage.
Google Analytics
Paste Google Analytics code at the bottom of a template page and check out statistics of real-time website traffic statistics. You will see which pages are popular and where visitors are coming from. With seamless AdWords integration you can control traffic on advertising campaigns and see their effectiveness online.
Search Engines Optimization
Creating webpages with high ranks couldn't be easier thanks to SEO tools. We give you powerful features integration and ability up to any SEO campaign. There are several options inside the SEO module: friendly sitemaps, short SEO oriented URLs, META keywords and descriptions, robots.txt files.
Cloud Backend & Infrastructure
MOKKIO uses Cloud Backend as a basement for all services provided to users. Instead of websites and server-based applications run on particular computers or servers we use the powerful network of servers which utilizes the resources from the computers as a collective virtual computer (MOKKIO cloud), where the MOKKIO application run independently from particular computer or server configurations. This kind of infrastructure makes MOKKIO 100% stable and redundant.
Social Integration
"Social networking has become a fundamental part of the global online experience", John Burbank, CEO of Nielsen Online.

Recommendations spread by "word of mouth" still remains the most powerful source of publicity given to any company, product, or service. Now, with the power of the social networks comments spread faster and more effective than a couple years ago. Ask your visitors to share your webpages and it will rank your website high.
MOKKIO Plug-ins
Our philosophy allows you to be focused on your business, while we are focused on technical details. Just upload your PSD file and describe the project which has to be done. We will slice your PSD and code CSS/xHTML templates with tableless layouts. After uploading to the MOKKIO platform they can be instantly used on your website.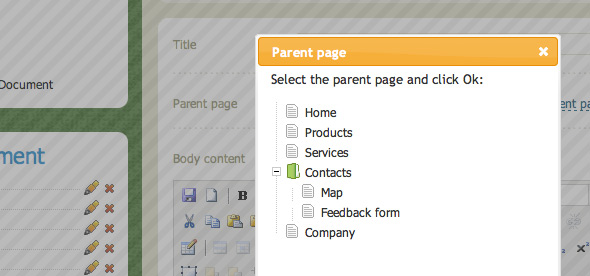 You can also code it yourself using our guidelines, it's free ;-) MOKKIO default templates include use of valid XHTML and CSS files for improved cross-browser consistency, accessibility, and SEO friendliness. The way you edit them can save you time and money
API Toolbox
API Documentation is developed for designers, with simple API tags you can manage your templates with easy. Our API based on Smarty templates. Smarty is an engine, facilitating the separation of presentation (HTML, CSS, JS) from scripts logic. This implies that PHP code is script logic, and is separated from the presentation on frontend. Also we are providing the reference to designers can utilize all core Smarty components for better code integration and maintenance.
What are the benefits for MOKKIO API?
No software to install or maintain
Total control over HTML viewed by end user
Flexibility for custom developed templates
Fast template deployment for designers
Quick and easy to maintain a website styles
Syntax is easy to understand, no programming knowledge required
No security risks
At our API website we will give you step-by-step tutorials how to prepare your own custom template and apply it to a website.